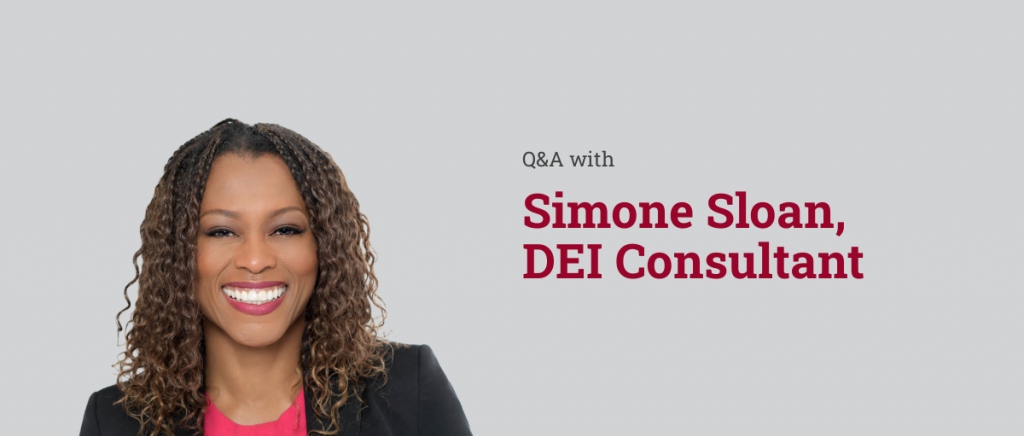 For several years, our marketing and communications department has worked with Simone Sloan, a DEI consultant and the CEO of Your Choice Coach. Michelle Galindez, our director of marketing and communications, recently sat down with Simone to ask her some questions about the benefits of DEI programs and the best ways to effect meaningful change in today's environment. Below are highlights of the discussion:
MG: A 2020 report from McKinsey & Company said, "progress on inclusion and diversity could slow down during and after the crisis unless companies consciously focus on advancing diversity and fostering inclusion." Do you believe that progress slowed down?
SS: In the past two years, the approach to diversity, equity, and inclusion (DEI) has changed and continues to evolve. I have seen a renewed impetus for leaders to reflect and re-evaluate their organization's DEI programs and strategies and their overall culture. One of the key drivers within the past two years has been a bottom-up push advocating for change. I have also experienced younger leaders proactively seeking out approaches to be better leaders with their teams. These younger leaders are ready to roll up their sleeves and invest resources and time in a DEI program. They are also more curious about building a culture of inclusion and embedding diverse and equitable practices in their organization.
I do not think progress overall has slowed but there are industry laggards who may not understand the value of having a diverse workforce and creating an environment where people feel included. I point to the next group of leaders, Gen Zs, who are a more racially and ethnically diverse population than previous generations. In addition to being more diverse, many are gender-fluid and digital natives. They have strong values and want to work for companies that have a clear purpose. For this generation, when they choose to work for an organization, the expectation is that the organization will ensure they feel valued, respected, welcomed, and heard. The expectation is that the company will take a bold stance on social justice issues and will be a good steward of the environment.
MG: Now that the pandemic is waning, what should companies be doing to keep the DEI momentum going?
SS: COVID-19 and the events that followed have wreaked havoc on employees' mental health. People have experienced burnout and some forms of trauma. Organizations cannot ignore these issues because they impact performance and productivity. These are all diversity issues, people issues. It is in these times when employers need to show up for their people and when employees need to feel empowered to advocate for themselves and their teams and create an environment of support for each other.
Whether you are working remotely, in a hybrid environment, or in-person, inclusion matters now more than ever. DEI is not about saying the right thing, making empty promises, or being performative, it is a continuous active process that needs to be nurtured.
As it pertains to momentum, for me, it means going below the surface to have impact. When the camera/spotlight is turned off, what are organizations engaged in? For example, June is Pride month. It is less about posting a Pride flag once a year and more about an approach to understand the issues that are prevalent in and a priority to these communities. If you stood with the black community during #BLM or the Asian community #APPI, make an effort to evaluate the suppliers/vendors with whom you choose to partner. What percent are diverse suppliers? Develop a strategy to include diverse suppliers as part of the organization's vendor/partner strategy. Take it one step further and measure the impact that hiring these diverse suppliers is having in these communities. To keep DEI momentum going, companies should take a consistent pulse of the workforce and develop a hiring strategy that is sustainable and aligned to their values.
MG: What kinds of training foster inclusivity in an organization?
SS: Creating a culture of continuous learning supports inclusion. I call it a learning journey. A one-and-done approach is not going to bring about change. This learning requires consistent effort so that organizations are able to stay abreast of changes and to remain relevant to their market and workforce.
It takes leadership's commitment to lead by example in terms of inclusive behaviors, communication, and actions so that DEI becomes embedded in the organization's decision-making, design approach, communications, behaviors, and processes.
A systematic approach to learning is necessary to support cross-functional collaboration. It is moving away from silos and breaking down functional barriers to allow for transparency. This, in turn, fosters innovation and creativity and lays the foundation to build trust across the organization.
MG: What are the best ways to measure success with DEI efforts?
SS: The three things that I evaluate are business alignment, transparency in reporting, and leadership involvement.
DEI has to be aligned with the business strategy or else it does not work, meaning it is not sustainable. The two cannot operate in parallel/silos. There needs to be integration across hiring, promotion, mentoring, training, communication, supply chain, marketing, and financials, to name a few areas.
Organizations who are transparent with their DEI reporting do well. Stakeholders are going to ask them about it, so why not share it proactively? Reporting updates on your DEI holds organizations accountable. It allows organizations to share their strengths and vulnerabilities, and outline the areas of their DEI strategies that will be developed going forward.
MG: Is there anything else you'd like to mention?
SS: Inclusion lays the foundation for employees having a sense of belonging within companies. It allows for employees to feel welcomed, valued, respected, and heard. Fostering a company's culture of inclusion takes intentionality, accountability, and metrics. It is a bottom-up, top-down, and sideways strategy that requires everyone's input. All voices need to be heard and engaged in this effort.
Secondly, identifying the company's purpose for creating a DEI strategy is important. This purpose should be clear, consistently shared by leadership, and messaged in every communication of the organization. It is encouraging to see change in this space. There is more work to be done as it pertains to diversity, equity, and inclusion, so we all need to be persistent and resilient to stay the course.